The IET monthly forum held at the University of Peradeniya was attended by around 80 participants. Due to a student strike at the Faculty of Engineering (We don't want to learn, do we?), the venue was shifted from EOE Theater to IT Center.
Four of us including myself presented our thoughts:
IT Governance And Why FOSS Matters
By Kamal Wickramanayake (me!)
Sahana: FOSS Disaster Management System
By Mifan Careem (Sahana core team member, Lanka Software Foundation)
VoIP with FOSS
By Anuradha Ratnaweera (Technology Specialist, Virtusa)
Virtualization, a World of Virtual Machines
By Buddhika Siddhisena (Co-founder and the CTO, ThinkQube)
Audio recording was poor due to the whispering of air conditioners and hence not being posted here. See the bottom attachments section for the slides I used.
We missed Mifan in the following group photo (He and his project team members had returned from the US on the same day. Sahana project had received the top most FOSS award in the world from Richard M. Stallman which Mifan showed to the event participants. Mifan left early to get some sleep.). I am the third from the right hand side: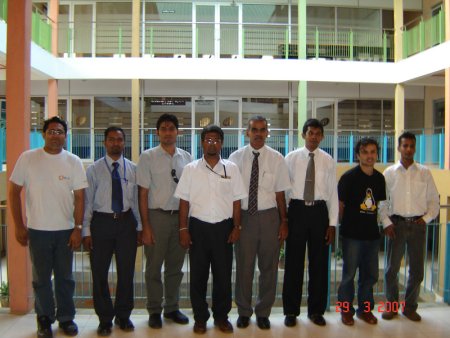 Some other photos are found here.